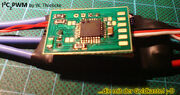 You have three choices for powering your motors:
You buy ESCs that understand I²C signals. Usually these are very expensive and they are rare.
You reprogram your standard ESC to read I²C. (Link needed)
Use Willa's custom made I²C to PWM converters.

The Eagle schematics and the firmware can be downloaded from http://shreddiquette.blogspot.com

Currently it supports up to 8 I²C adresses which you can select with jumpers and also work with a original mikrocopter.
Important:
You have to teach the min/max throttle to your ESCs (+-100% on your transmitter). Additionally, you'll have to disable the voltage cut-off of your ESCs (e.g. by setting them to NiCD mode).
ESCs tested so far with 417Hz (not in flight yet):
Turnigy Plush - 60A
Turnigy Plush - 40A
Turnigy Plush - 25A
Turnigy Plush - 10A
Turnigy Plush - 6A
TowardPro Mag8 ESC 18A
HobbyKing HK-HW30A 25A
The files "okto_mambomiko.*" enable the selection of up to 8 i²c addresses. Should work with a mikrokopter with firmware 0.78 .
Community content is available under
CC-BY-SA
unless otherwise noted.